I am thrilled and honored to introduce the newest member of 'Team Self-Love', the lovely ms. Jayka of heyJayka

I am so lucky to have this girl on my team, she is amazing! Jayka I wish you all the LOVE and happiness your heart can hold on this journey!♥
Proudly joins Team Self-Love because she is, "a Queen!"
Get to Know to Jayka:
name:
Jessy Taylor aka Jayka!
age:
Twenty-Seven
Where are you from:
Salinas Valley, Cali Baby
What do you do for living:
Spread God's Love!
Something you want the world to know about you:
I just might be the most simple yet complex person alive.
Favorite body part:
My eyes
Favorite color:
"Healthy Grass" Green
If it wasn't for
Lala
I wouldn't
be brave enough to do this project.
Favorite feel good food:
Chicken Mole & White Rice
You feel best when wearing:
Cute Underwear & a Tank
Something you do for yourself, everyday (week, or month):
Stay away from fast food as much as possible.
I look in the mirror and say/think,
Jayka you sexy, but I wish we could do something about this hair.
Favorite self-love quote:
"You yourself, as much as anybody in the entire universe, deserve your love & affection." -Buddha
What do you do to keep healthy:
I am learning to eat healthier.
What keeps you motivated:
My husband's unconditional love for me.
I feel better when I,
get out in the sun.
What made you join the self love team:
I figured it is about time I show myself some love, and seeing Lala's pictures and stuff really inspired me.
Final Statement about your body, body image, body issues:
God has created you to be uniquely beautiful, so don't worry about the next chick/dude, learn to accept and love what you have been given. You are perfectly YOU.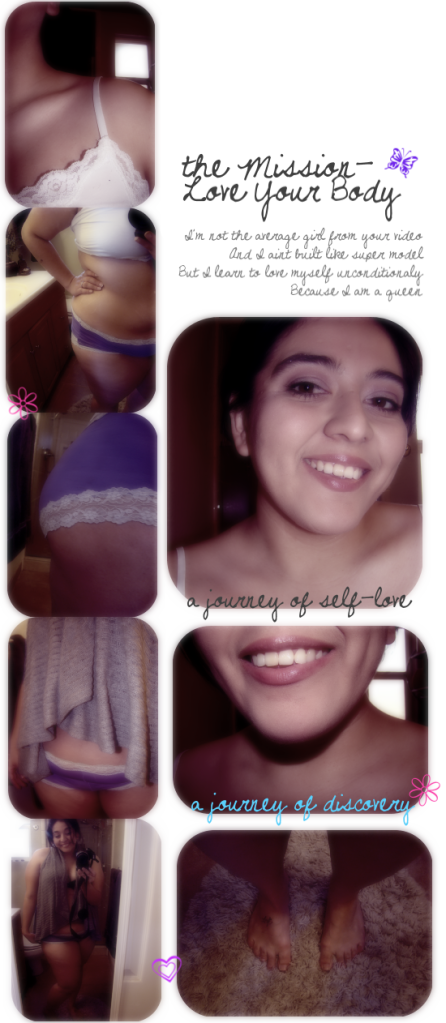 Read & Learn more about Jayka
Follow her on her journey of self-love & self discovery.
It's not to late for
YOU
to
JOIN IN
and be a part of
Love Your Body Month
, give your body the gift of
love
!
JOIN IN
!!!