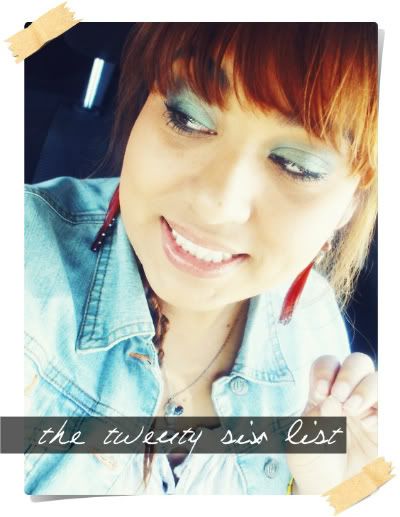 It came and went. I turned 26 this year in July and I'm still in stock of how time flies by. A bit scary actually. Anyway I got to thinking, about how I'm not exactly in the place that I wish/low key should be at, at 26. At first I began to get down on myself which turned into feeling sorry for myself which transformed into completely sadness. Well life is to short for all that and reality is, NOTHING EVER GOES AS PLANNED. Get Over it! At least that's what I'm telling myself now. Which lead to The twenty-six List, the 26 list is a list of 26 acts I want to engage in before my 27th birthday! I think this will help me A LOT in getting moving on stuff I really want to do but continue to drag my feet about. It's important that we can growing, learning, and changing. If we aren't moving, we aren't growing and stagnant is BAD NEWS! Please wish me luck as I try to cure myself of procrastination!

1. School. Ok it's time, I've BEEN talking, writing, and thinking about it, now it's time to break, STOP PROCRASTINATING, making excuses && just do it!
2. Passport. I'm 26, there is NO REASON why I shouldn't have one by now.
3. USE THAT PASSPORT
4. Air-Plane. It's becoming a little ridiculous at this point, my ass NEEDS to see the sky.
5. Camera. For once just buy something I really want, F a price tag!
6. Make a BUDGET and KEEP to it! I talked about this in a previous post, I need a budget in my life like a year ago!
7. SPIN! Take/Try a spinning class.
8. Learn a new trade.
9. GET IN TOP NOTCH SHAPE! -- contemplating a short-term trainer to start off with.
10. Decide on my next job!
11. Learn to say "No."
12. Stop Procrastinating!
13. Find Something of my Own.
14. Run/Walk for a cause.
15. HIKE!
16. Take a photo/art class.
17. Take a REAL vacation.
18. Master VEGANISM.
19. Do something with my talents!!!!!!!
20. Join a team. (I have much thoughts about this, will have follow-up post!)
21. BOOK! BOOK! BOOK! I'm not getting any younger and those who really know me, know that one of my life goals is to write a book, I have a total of about 5 possible directions, I'm 26 it's time to CHOOSE and START my book.
22. TRY SOMETHING NEW! -sounds simple but sometimes can be very hard to step out the box.
23. Be more social. -- I'll never be that social butterfly but for the sake of my 'head' and my relationship, I need to work on my social skills. -___-
24. Attend 'Spoken Words' nights
25. LOVE MYSELF MORE!
26. Feel, Live, and Be better!